Brooklands Section regalia
Section Members now have the facility to place an online order for sweatshirts, polo shirts etc, with delivery to their home address. The order is placed directly with our supplier through a dedicated website accessed via this link: REGALIA ORDERS.  There is a range of clothing types available in a variety of colours and a choice of two versions of the new 50th Anniversary Brooklands Section logo. The prices shown on the website include the embroidered logo, and there is an option to further personalise the item by adding your name or initials. Full details will be found by following the link. Note that beanie hats and mugs are not currently available with the Brooklands Section logo.
There is a chart to help you select the right size here: Size Chart. The advice from the supplier is to choose the correct size for your measurement. Don't choose a larger size unless you want a particularly loose fit.
If you have any questions about the clothing or about placing an order you should contact the supplier Andy Lian of Recognition Express Ltd, via the telephone number shown on the ordering web site.
Standard logo is approximately 95 x 40 mm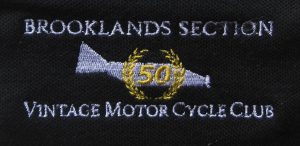 Alternative logo is similar size but without the patch, and is £2 cheaper.